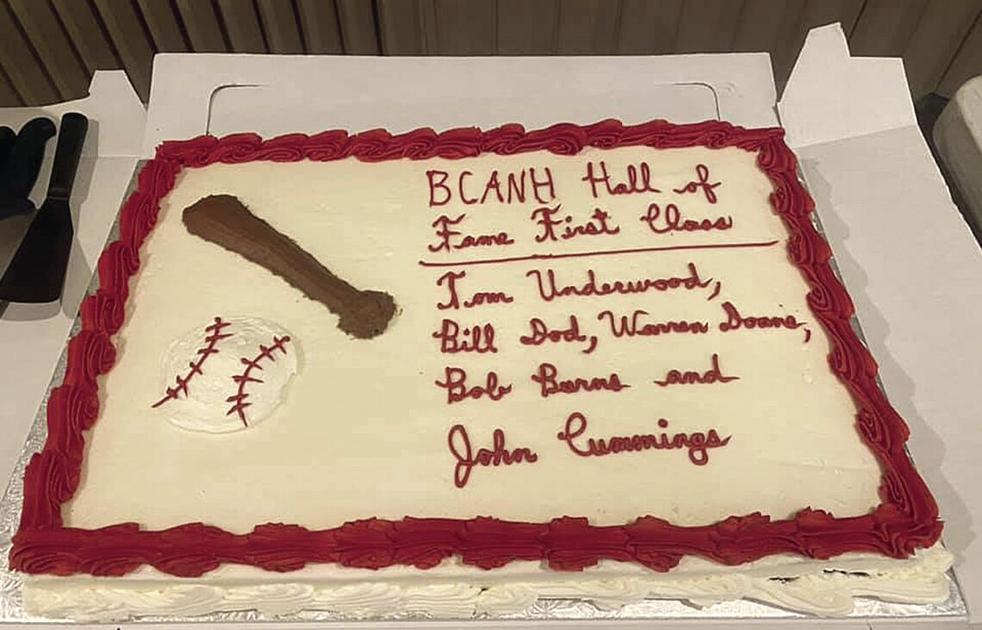 Burns posthumously inducted into Baseball Coaching Hall of Fame | Events / contests
CONWAY – Baseball royalty was honored by the Baseball Coaches Association of New Hampshire at the Sweeney American Legion Post in Manchester on June 22 with the induction of the first class of inductees into the Hall of Fame. Among those on the list was the late Bob Burns, who coached Kennett High baseball for 42 years.
His good friends Tom Underwood, Bill Dod and John Cummings as well as Warren Doane join Burns in the first class.
"That's quite a crew," said Linda Burns, his wife of almost 38 years until her passing in January 2016. "It's a huge honor. I know Bob would be proud, and his former players will be happy to see that happen.
Linda Burns, her daughter Staci and her son Brenden were on hand for the ceremony.
The Baseball Coaches Association had planned to hold a dedication banquet last June, but it was postponed due to the COVID-19 pandemic.
Burns, who retired at the end of the 2002 season after 42 years at Kennett High, left the Diamond as the all-time leader in New Hampshire's high school baseball wins. Burns became the head coach of the varsity baseball team in 1970, and for many, that was when baseball arrived in the Mount Washington Valley. The Eagles quickly became one of the best programs in the state. His teams went 511-312. In addition to being perpetually in the playoffs, the Eagles won two state championships during the Burns era and reached the Final Four eight times.
"It's the story of this program," said current KHS varsity baseball coach Josh McAllister, who played for "Burnsy," as he was affectionately called, in 2015 when Burns pitched the first pitch. ceremony at Robert Burns Sr. Varsity Baseball Field at Kennett High School which opened in 2014. "I know I wouldn't be here without him. He's Kennett Baseball."
In 1994, Burns was inducted into the Coaches Hall of Fame. In 2009, he received the Walter A. Smith Award from the State Interscholastic Athletic Association and was recognized as one of New Hampshire's most awarded baseball coaches. In 2016, he was third behind good friends Tom Underwood, who retired from Plymouth in 2015, and Bill Dodd, who still ran the Souhegan program. The three were able to reunite in the fall of 2015 for a day of baseball storytelling, something Burns loved to do.
Underwood was humbled by his selection.
"Being a First Class Hall of Fame member means the world to me for so many reasons," he said. "First to be with my closest friends and fellow coaches Bob Burns and Bill Dod. Over the years we have had many games in regular seasons that have spanned over 40 years.
"The three of us have learned to respect each other in more ways of life. It also rewards the Big Three for all the time we have spent developing young players to become men in all aspects of life to better serve their communities. There is nothing better than this to be a part of the greatest sport in baseball.
Underwood, 70, and a Campton resident, coached the Plymouth Bobcats for 43 years (1972-2015), compiled an unparalleled resume – ranging from 518-256, winning six State Championships, winning seven trophies as a state runner-up and was a regional force in local youth baseball, including Babe Ruth and the American Legion programs.
Underwood has won Coach of the Year six times, was District I (North East) Regional Coach of the Year, was nominated for National Coach of the Year and was inducted into the Temple of fame from the New Hampshire Interscholastic Athletic Association in 2014. He is also a past president of the NH High School Baseball Coaches Association.
Dod, 74, of Amherst, coached high school baseball for 50 years before retiring from Souhegan High School in 2018 with 549 wins. He also coached at Bishop Guertin, Sanbornton and Milford during his illustrious career and was also a longtime athletic director for the Sabers.
On May 16, 2016, Dob overtook his good friend Underwood with his 519th victory. He said this milestone would probably mean more to him in the future, because "right now we are in the middle of a great season with a great group of kids and we are looking forward to a successful spring."
He added, "There is nothing like baseball. It's a sport that, no matter how small, small, fast or slow, it's a great game.
Cummings, 83, and a Somersworth resident guided the Somersworth Hilltoppers for 40 years (1961-2000), winning three championships and 445 games, the most in New Hampshire upon retirement. He is now fourth. Cummings taught math at Somersworth.
Doane, who died in 2001, had only one losing season in 29 years as a varsity baseball coach at Concord High School; 15 with American Legion Post 21 and four with the Granite State Big Blue Senior Babe Ruth All-Stars. The Warren H. Doane Diamond at Memorial Field in Concord is named in his honor.
According to the BCANH website, "The service tenure must be at least 10 years as a high school baseball head coach. All years are as a head coach.
Ten to 20 years of high school baseball training means the candidate must have been retired for at least two years.
Over 20 years of high school baseball training means the candidate must be retired for at least a year.
Over 25 is automatically eligible.
The committee also established selection criteria: "1. Impact on New Hampshire baseball. 2. Character. 3. Achievements in coaching. 4. Class size: With the exception of the first class, there will be a maximum size set at five inductees in total per year. "
The procedure for nominations is that they can be completed online or emailed to [email protected]
Nominations can also come directly from the Hall of Fame committee. The committee has two representatives for each division. The president of the BCANH will vote only in the event of a tie. Committee members will rotate at a staggered pace (for example, the first committee will have half of the division representatives for a year and a half for two years to ensure consistency).
"The nomination deadline is August 1 of each year. Each recipient will be notified by letter from the president (or his delegate). This letter will contain the date and place of the banquet, as well as a biographical form which must be returned to the sender no later than the second Saturday in October.